To achieve a quick start with SMARC 2.0 CPU modules congatec offers the conga-SEVAL evaluation carrier board, which routes all the SMARC 2.0 signals to standard PC interface connectors. The conga-SEVAL Evaluation Carrier Board cupports congatec SMARC 2.0 Module.
The conga-SEVAL furthermore available as a complete Kit solution ( conga-SKIT/APL ) including a conga-SA5 SMARC 2.0 CPU module (with Intel "Apollo Lake" CPU) and additional accessories.
I/O-Interfaces
1x PCIe x4 | 1x miniPCIe | 1x PCIe x1 | 1x M.2 socket Key E
1x SATA
1x USB 3.0 | 1x USB 2.0 | 1x micro USB 2.0 (OTG) | 1x USB Type C with PD and DP1 via Alternate Mode
2x RS-232 (1x internal RX/TX on pinheader, 1x RX/TX w/ handshake on DSUB9)
2x CAN
GPIO
1x SDIO interface
2x I²C Bus
1x eSPI/SPI1 on header
1x SPI Bus
1x FAN control
1x Disk Drive Power Output
Ethernet
Internal Graphic Interface
2x24 bit LVDS connector shared with 2x eDP or 2xDSI
External Graphic Interfaces
Audio
I2S Audio interface and HDA interface
Connector Layout of the conga-SEVAL SMARC 2.0 evaluation carrier board: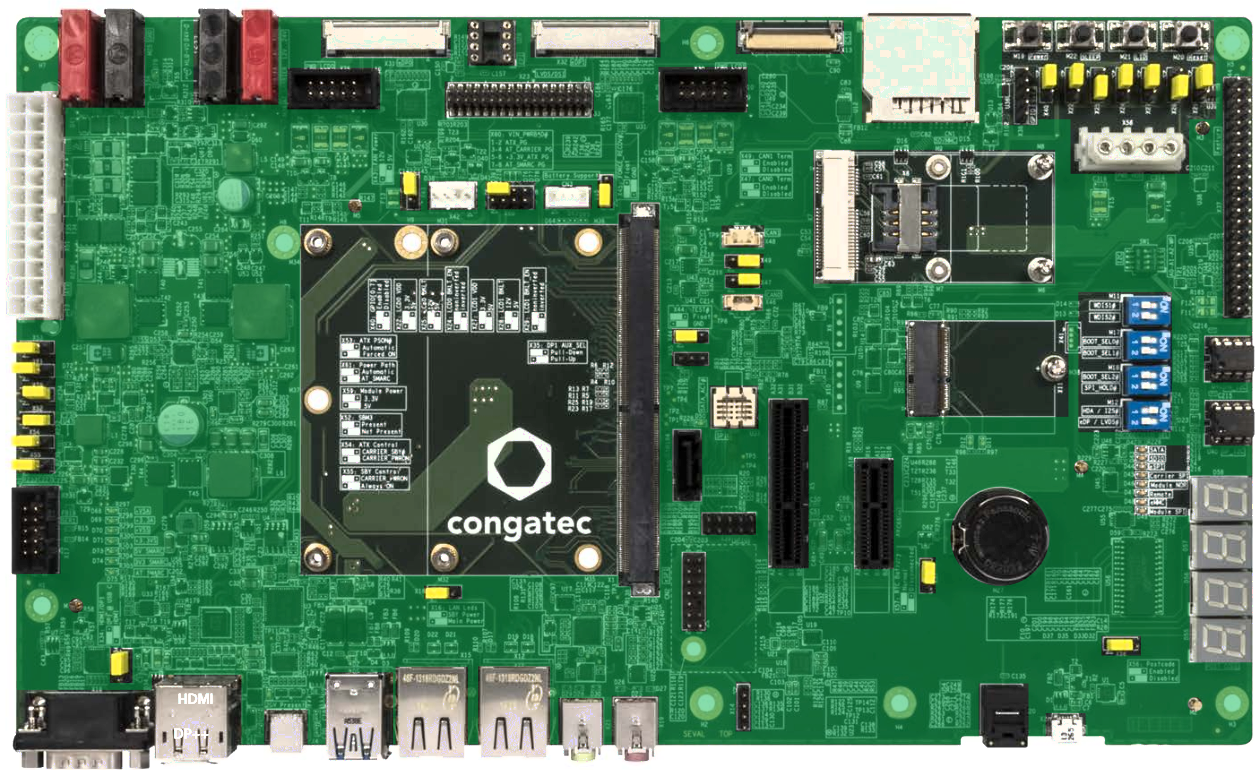 SMARC 2.0 industry standard for computer-on-modules
SMARC 2.0 is a new standard released by the Standardization Group for Embedded Technologies (SGET). With numerous graphics, camera, sound, networking and wireless interfaces, the SMARC 2.0 CPU modules are ideal for mobile IoT-connected multimedia platforms and many other low-power graphics-intensive applications. Thus, SMARC 2.0 positions itself exactly between the two already well established module standards Qseven and COM Express.
SMARC 2.0 modules from congatec offer a rich choice of graphics, camera, sound, network and (optional) WiFI and Bluetooth wireless interfaces. congatec SMARC 2.0 computer-on-modules like e.g. the conga-SA5 represent a SOM (system-on-module) which encapsulate a complete low power x86 based core design. SMARC 2.0 modules offer embedded system developers a complete, off-the-shelf, credit-card sized embedded computing core that is ideal for IoT connected multimedia platforms and many other graphics-intensive low-power applications.
Related links to "conga-SEVAL - SMARC 2.0 Evaluation Carrier Board"
Available downloads: