Das conga-SEVAL Evaluation Board congatec ist für den schnellen Einstieg mit SMARC 2.0 CPU-Modulen konzipiert, Das Board führt die Schnittstellen des SMARC 2.0 CPU Moduls auf Standard-PC Stecker. Das conga-SEVAL Carrier Board unterstützt SMARC 2.0 Module von congatec wie z.B. die Intel Apollolake basieren Module der conga-SA5 Produktfamilie. Alternativ ist das conga-SEVAL als komplettes Entwicklungskit ( conga-SKIT/APL ) inklusive einem congatec conga-SA5 SMARC 2.0 CPU-Modul (mit Intel "Apollo-Lake" CPU) und weiterem Zubehör erhältlich.
conga-SEVAL Feature Highlights:
I/O-Interfaces
1x PCIe x4 | 1x miniPCIe | 1x PCIe x1 | 1x M.2 socket Key E
1x SATA
1x USB 3.0 | 1x USB 2.0 | 1x micro USB 2.0 (OTG) | 1x USB Type C with PD and DP1 via Alternate Mode
2x RS-232 (1x internal RX/TX on pinheader, 1x RX/TX w/ handshake on DSUB9)
2x CAN
GPIO
1x SDIO interface
2x I²C Bus
1x eSPI/SPI1 on header
1x SPI Bus
1x FAN control
1x Disk Drive Power Output
Ethernet
Internal Graphic Interface
2x24 bit LVDS connector shared with 2x eDP or 2xDSI
External Graphic Interfaces
Audio
I2S Audio interface and HDA interface
Stecker-Layout des conga-SEVAL SMARC 2.0 Evaluation Carrierboards: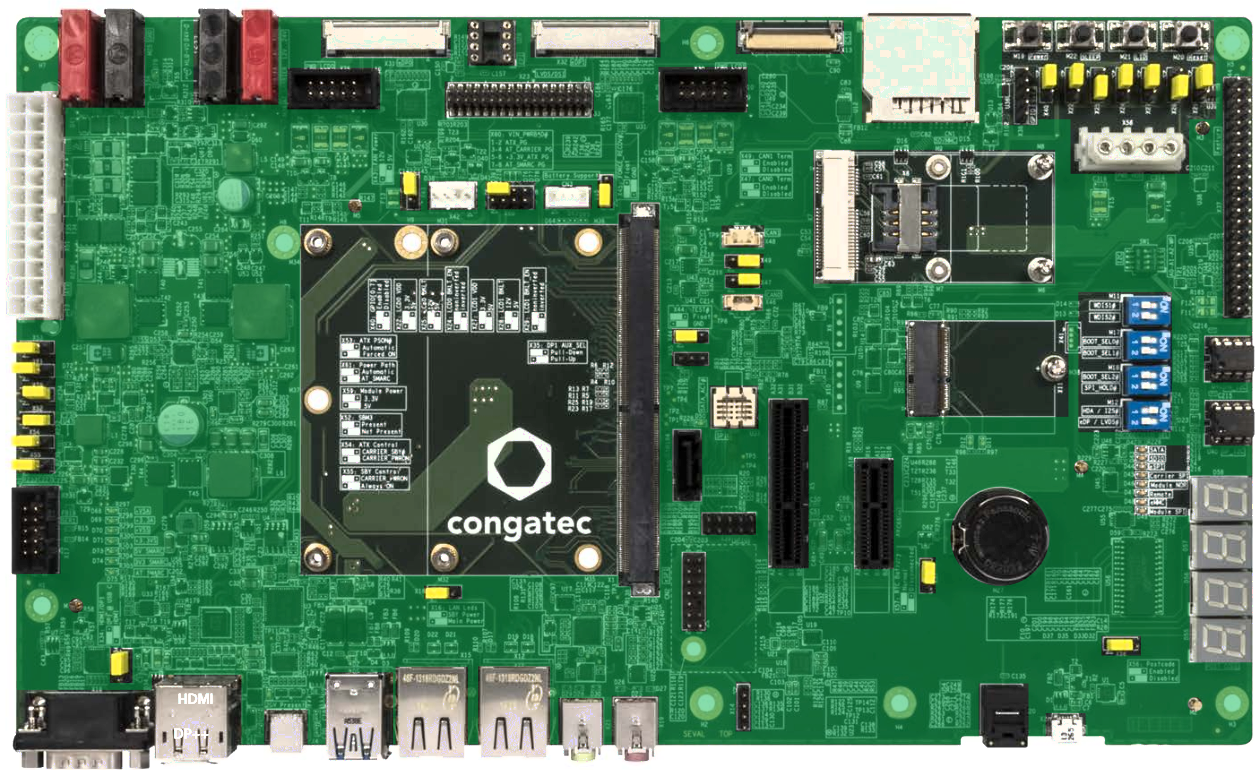 SMARC 2.0 Standard für Computer-On-Module
SMARC 2.0 ist ein neuer Standard, der von der Standardization Group for Embedded Technologies (SGET) herausgegeben wurde. Mit Ihren zahlreichen Grafik-, Kamera-, Sound-, Netzwerk- und Wireless-Schnittstellen eignen sich die SMARC 2.0 CPU-Module neben mobilen Systemen auch für IoT-angebundene Multimedia-Plattformen und für viele weitere grafikintensive Low-Power-Anwendungsbereiche. Damit positioniert sich SMARC 2.0 exakt zwischen den beiden bereits umfassend etablierten Modulstandards Qseven und COM Express. Die 314 Pins des SMARC 2.0 Steckverbinders bieten bis zu vier Videoausgänge, was SMARC 2.0 insbesondere für den Einsatz in Multimediaanwendungen geeignet macht. SMARC 2.0 nutzt den kostengünstigen MXM 3 Konnektor mit 314 Pins im 0,5 mm Raster. SMARC 2.0 ist bezüglich internen und externen Grafikausgängen großzügig dimenstioniert. Es gibt zwei Dual-Mode DisplayPorts (DP++) für die flexible Anbindungen externer Displays über DisplayPort, HDMI oder VGA. Für interne Displays sind 2x24 Bit LVDS implementiert. Alternativ unterstützt SMARC 2.0 auch zwei unabhängige embedded DisplayPorts (eDP) oder MIPI Display Serial Interfaces (DSI). SMARC 2.0 definiert einen speziellen Bereich auf dem Modul für miniaturisierte RF-Konnektoren, um drahtlose Interfaces wie WLAN und Bluetooth zu ermöglichen. SMARC 2.0 bietet alle Signalleitungen, die für den Support digitaler Kameras benötigt werden. Hierfür wurden zwei serielle MIPI CSI (Camera Serial Interface) implementiert. SMARC 2.0 ist für Applikationen mit geringem Stromverbrauch definiert. Die Module können mit 3.3V oder 5V DC betrieben werden und bieten alle Signale, die für ein Batteriemanagement benötigt werden.
Die Stromlaufpläne des conga-SEVAL Evaluation Carrierboards stehen kostenlos zur Verfügung, was die Implementierung einzener Funktionsblöcke in eigene SMARC 2.0 basierte Carrierboards erleichtert.
| | |
| --- | --- |
| Hersteller: | congatec |
| Produkt-Typ: | Computer-On-Module |
| Produktfamilie: | Evaluation Board |
| Optional: | MCTX Carrier Board Design & System Integration Services |
| Formfaktor: | SMARC |
| Produkt: | conga-SEVAL |
| Artikelnummer: | 07010 |
Related links to "conga-SEVAL - SMARC 2.0 Evaluation Carrier Board"
Available downloads: