The conga-MEVAL Evaluation Carrier Board for ultra-compact COM Express® Mini / Type 10 modules provides developers with a platform to jump-start the development of systems and applications based on COM Express Type 10 specification.
The conga-MEVAL from congatec routes all the COM Express® Type 10 signals to interface connectors.
Features:
I/O
2x PCI Express Card Slots (x1 & x4), ,
1x Express Card, 1x Mini PCI Express
Gigabit Ethernet
6x USB 2.0, 2x USB 3.0, 1x USB client

Audio
High Definition Audio Codec

Storage
2x SATA

Misc
PCI POST code display
System speaker
Power button
Reset button
CMOS battery
18x GPIOs

Video
1x LVDS
1x HDMI
1x Display Port
1x eDP

Power
ATX connector
12V/GND banana jacks
Seperate Module Voltage Power Connectors 4.75 to 20 Volts (optional)

Size
294 x 244 mm²

Environment
Temperature: Operation: -40 to +85° Storage: -40° to + 85°C
Humity: Operation: 10% to 90% Storage: 5% to 95%
conga-MEVAL Connector Layout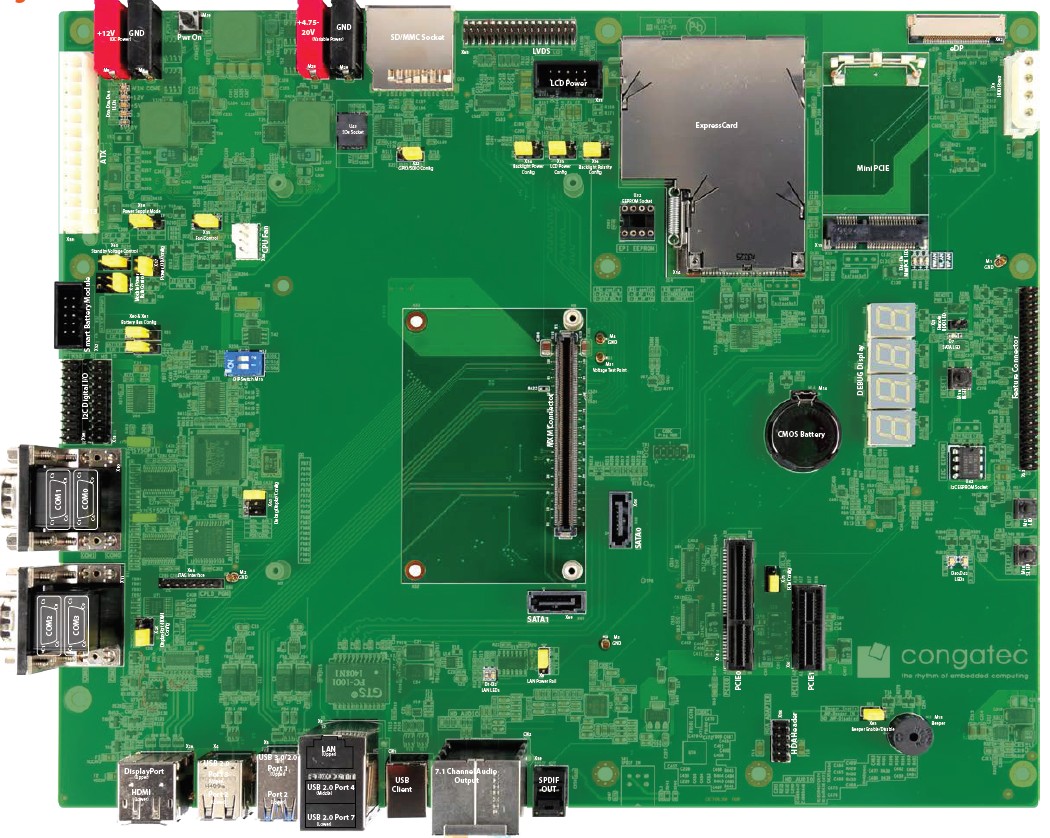 COM Express Type Mini / Type 10 Industry Standard
The ultra-compact COM Express® mini (Type 10) modules encapsulate energy-efficient CPU cores with x86 performance on a credit card-sized footprint (55 x 84 mm). The COM Express Type 10 module pinout uses the single 220 pin A-B connector. Type 10 COMs take advantage of modern display interfaces.The COM Express Type 10 pinout provides the ability to offer PCI Express, Serial ATA, and LPC options thereby expanding the range of potential peripherals.
Related links to "conga-MEVAL Evaluation Carrier Board"