Early Access development Kit for CEx7 LX2160A COM Express Type 7 Module.
The Kit contains the following components:
a) CEx7 LX2160A COM Express Type 7 Module with 16-Core ARM Cortex A72 NXP Layerscape LX2160A CPU with active cooling
b) HoneyComb LX2K COM Express Type 7 Embedded Mini ITX SBC carrier board
SODIMM DDR4 memory module options with different sizes (with or without ECC support) are offered separately on request (please contact us via the "product inquiry" button for available options).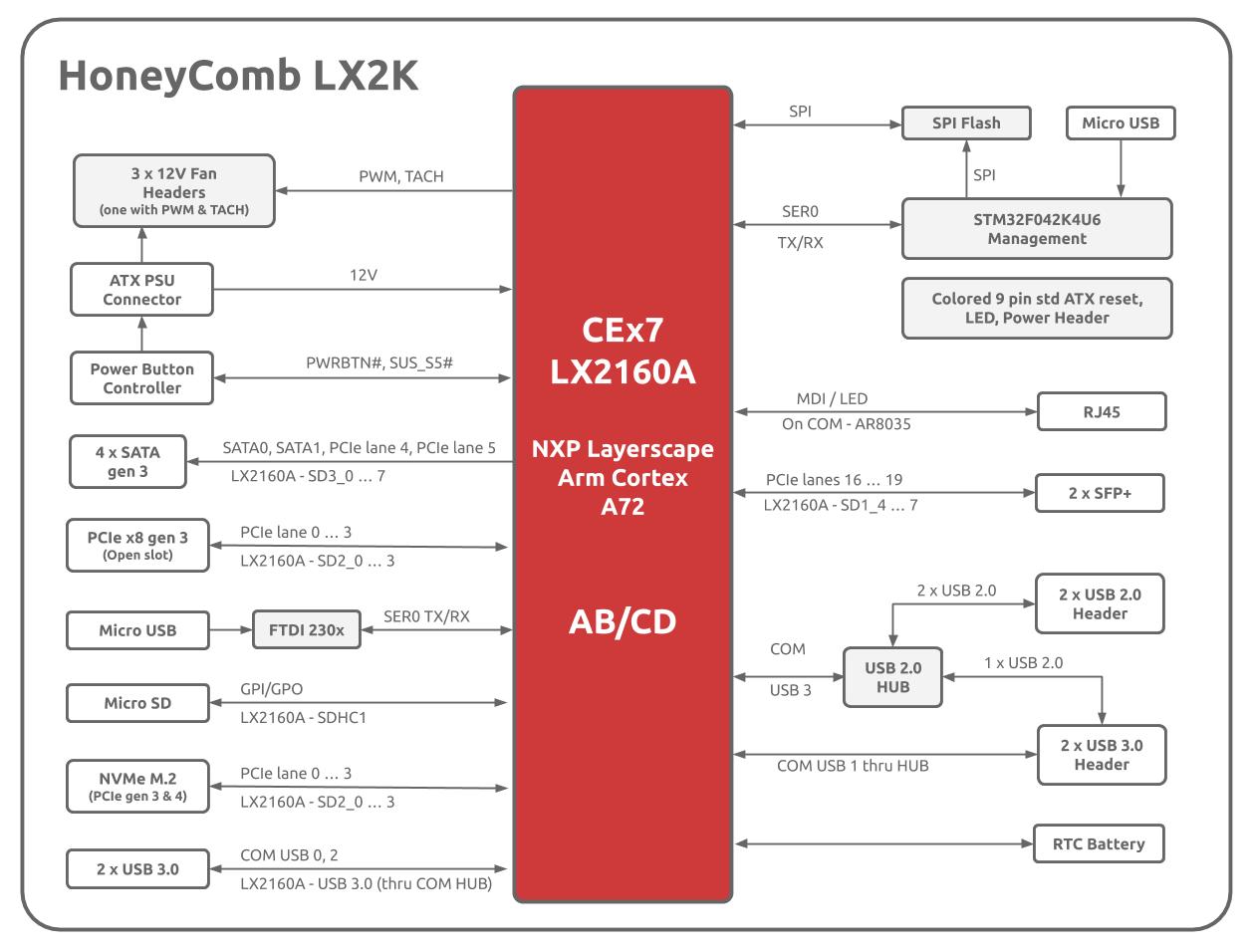 COM Express Type 7 Module CEx7 LX2160A
The CEx7 LX2160A COM Express Type 7 Computer-On-Module from Solidrun is based on the NXP Layerscape LX2160A platform which offers 16 Cortex A72 ARM Cores. The CEx7 LX2160A COM Express Type 7 board features high computing and networking performance, connectivity options and high-end networking capabilities - making it the ideal platform for an almost endless variety of ARM based computing and networking solutions.
HoneyComb LX2K Mini-ITX SBC Carrier Board

HoneyComb LX2K from Solidrun is a robust embedded Mini-ITX carrier board designed to work with CPU modules based on the PICMG COM Express type 7 form factor – offering a flexible and feature-rich carrier board for COM Express modules like the CEx7 LX2160A. The HoneyComb LX2K carrier board offers an array of 2 x 10GbE SFP+ connectors and 1 x 1GbE RJ45 port. Other features include 3 x USB 3.0 and 3 x USB 2.0 port, PCIe x8 slot, 4 x SATA, up to 64GB DDR4 memory, eMMC, optional M.2 (PCIe based for NVMe modules), microSD, and GPIO header.
Related links to "CEx7 LX2160A / HoneyComb LX2K Early Access Kit"
Available downloads: